Celeb Moms Love Early Lingo Learning Videos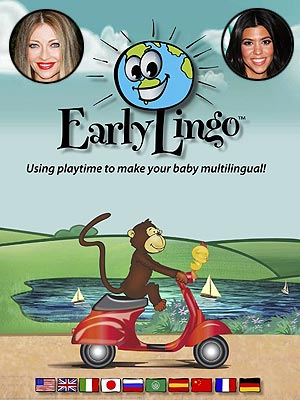 Courtesy Early Lingo, Inset: Landov (2)
Antonio Sabàto, Jr. isn't the only celeb parent who wants their kids to speak a foreign language.
Kourtney Kardashian, Katie Holmes and Rebecca Gayheart are also jumping on the bandwagon, using Early Lingo's fun-filled and easy-to-understand DVDs ($20 per set).
Available in English, French, Italian, Spanish and Chinese, each video series follows the adventures of young characters Jojo and Lulu through activities like Color & Shapes in the Park, Numbers & Counting on the Farm and Opposites at the Beach.
"I love the Early Lingo for my daughter Billie," actress Gayheart, who uses the Italian series with her 18-month-old, tells PEOPLE. "The fun adventures with Jojo and Lulu are a great way for her to expand her abilities in learning Italian."

Using the Total Immersion Method through a combination of music, colors, live footage, animation and authentic native speakers, the DVDs are perfect for kids aged 6 months to 9 years.
"My baby son Mason says 'hug' now in both Spanish and English," reveals Kardashian, who owns the Spanish series. "We like to speak Spanish to him!"
For more information on Early Lingo, which won this year's Dr. Toy Best Vacation Products Award, go to earlylingo.com.
— Linda Marx