Spotted: Jodie Sweetin's Happy Handful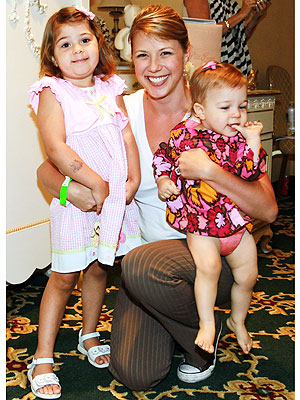 Pedro Andrade/Pacific Coast News
Say cheese!
Jodie Sweetin gets down with her daughters — Zoie Laurelmae, 3, and Beatrix Carlin, 13 months — for a group shot at the Pre-Emmy Parenting Lounge, held at the Intercontinental Hotel, on Friday in Los Angeles, Calif.
So how does Sweetin, 29, keep her sanity while raising a family? Plenty of caffeine and lots of patience!
"No need to stress out and freak out over little things," she says of motherhood. "Eh, they spill stuff. They do stuff. Whatever! It's cool."
RELATED: Jodie Sweetin's Motherhood Necessity? Caffeine!