Maya Rudolph: Motherhood Gets Easier with Each Child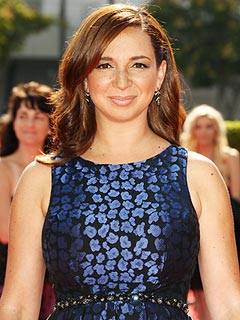 Jason LaVeris/Getty
Motherhood has never been so easy for Maya Rudolph.
The Up All Night star, who welcomed her third child — son Jack — with director Paul Thomas Anderson in July, admits it was a far cry from the births of daughters Pearl, 5½, and Lucille, 23 months.
"I'm a little bit of a pro. The stuff that I used to fear and used to worry about is so different, like the first time I brought [Pearl] home from the hospital," the actress, 39, said while promoting her latest series.
"I think I was in the backseat, putting my finger under her nose, making sure she was breathing, [and] asking my husband to drive three miles per hour."
However, when it came time for the couple to head home from the hospital with their new baby boy, the scene was strikingly different, Rudolph jokes.
"By the third child we didn't even have a car seat anymore. Then when he got one, we didn't even install it properly because we were running out of the hospital because we just wanted to get home," she laughs. "I ended up switching seats with [Paul] and I ended up driving myself home from the hospital."
After her stressful start to raising a family, Rudolph is now content to sit back and spend time worry-free time with her kids.
"I was grateful to have the experience again because I could actually enjoy it. I was so nervous the first time," she reveals.
— Anya Leon