Project Runway's Jeffrey Sebelia Debuts La Miniatura Kids Collection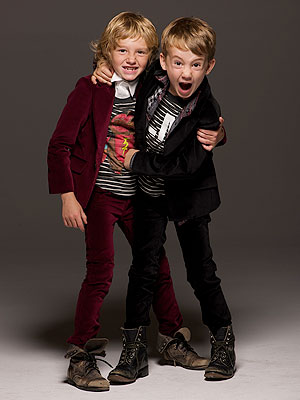 Courtesy La Miniatura
Project Runway's Season 3 winner (and bad boy!) — Jeffrey Sebelia — is back!
But now the designer is dabbling in kids fashions, debuting a hip, edgy boys collection called La Miniatura.
Sebelia, who famously got a neck tattoo during the taping of the show featuring his then infant son's name, created the line so his kid could "dress with some dignity!"
Well, it looks like he's accomplished his goal.
A fun mix of British posh and punk, it features artsy graphic tees and sweatshirts, sophisticated trench coats, skinny tartan trousers, rocker-ready velvet suits and slim-cut colored jeans.

We can't help thinking he must have had Kingston and Zuma Rossdale on the brain when sketching.
There is one child who definitely did inspire Sebelia — his son Harrison, now 6½. In fact, that's him in the black above. To shop the collection, go to ronrobinson.com.