Marla Sokoloff's Blog: I'm Having a Baby Girl!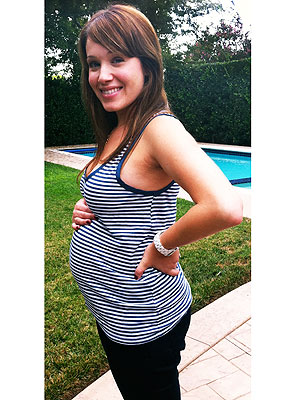 Courtesy Marla Sokoloff
Please give a warm welcome to our newest celebrity blogger, Marla Sokoloff!
Since audiences first got to know her at age 12 as Gia on Full House, Sokoloff has had many memorable TV roles — Jody on Party of Five, Lucy on The Practice, Claire on Desperate Housewives — as well as turns on the big screen in Whatever It Takes, Dude, Where's My Car? and Sugar & Spice.
Sokoloff, 30, also sings and plays guitar and released an album, Grateful, in 2005.
She wed her husband, music composer Alec Puro, in November 2009 and the couple — plus pup Coco Puro — make their home in Los Angeles. They expect their first child this winter.
You can find Marla on Twitter.


Hello and welcome to my very first pregnancy/baby blog!
I was super excited when PEOPLE.com asked me to contribute to their blogging section because I've been a big fan and an avid reader for some time now. I have really enjoyed reading about everyone's journey and I'm so pleased to be able to share mine (so far!) with you.
I promise to fill you in on the good, the bad and everything in between. I'll admit, being pregnant for the first time is a little scary, so stay tuned for my many anxieties and neuroses. (Let's just say … I'm pretty sure my doctor regrets giving me her email address!)
Luckily she wrote an awesome book that I highly recommend for anyone who has a million pregnancy questions. Everything from "Can I dye my hair?" (Yes.) to "Is it safe to visit a volcano?" (No.) It's called The Pregnancy Test by Dr. Emily Sikking and Melissa Heckscher. I reference it at least once a day. But I digress…
I'm currently 20 weeks along and we recently found out that we are having a … GIRL!
In all honesty, I had no preference in regards to gender; I just wanted the little peanut to be healthy. (Truly — I'm not just being politically correct here.) But I must admit, when I heard that we were having a girl — my heart skipped a beat.
Images of bubblegum pink and sweet little dresses filled my brain and I could hardly stand my excitement! (Side note: If you ask my husband, she will be a tomboy, so we are clearly on different pages as far as her style goes.)
Speaking of my husband … here's a little background on the both of us:
ME: I'm an actress who has a hard time listing my credits because I'm a little shy about that stuff. Most of you may recognize me and think we went to high school together but I promise you, we didn't. I just have one of those faces.
I'm so excited to be a first time mom and I'm ready for it all! Spit up, poopy diapers, diaper rash, sleepless nights — BRING IT!
HUSBAND: Alec Puro. Baby daddy and music composer extraordinaire. Some of his credits include Higher Ground, The Art of Getting By, and too many TV shows to list.
We've been married for almost two years and are currently in full-on nesting mode. Every weekend it's a new project around the house. Anyone else experience this??
Fun fact about us: Almost eight years ago, we were set up by the lovely and talented Jessica Capshaw. Hmmm … should we name our daughter Jessi??
DOG: Coco Puro. Our original first-born and the love of my life. Sometimes I look at her and feel awful because I know her life is about to change big time. If anyone has any tips for bringing baby home to an only child/dog, I would love to hear them!
So that's our little family. I can't wait to introduce you to our baby girl when she arrives! I really look forward to sharing the rest of my pregnancy with you.
If you need to reach me in the meantime — send me a Tweet @marlasok.
— Marla Sokoloff