Garcelle Beauvais 'Very Emotional' Sending Sons to School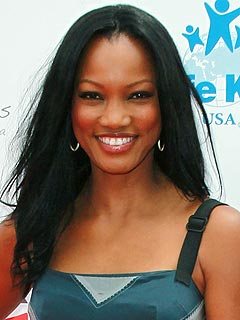 David Livingston/Getty
It's back to school for Garcelle Beauvais' twin sons Jaid Thomas and Jax Joseph — and back to painful good-byes for the actress.
"They started Pre-K and I was very emotional," the Franklin & Bash star, 44, told PEOPLE at Britax and Buick's The Red CARpet Safety Event presented by SpokesMoms, held Sept. 10 at the Riviera Country Club in Pacific Palisades, Calif.
"They were like, 'Bye Mom!' They were fine, more than happy to go and see the turtles and the bunnies. Unless I'm wearing bunny ears, there's no competition."
The boys are thriving in school, says Beauvais, and aren't shy to show off their newly-acquired knowledge to their mama.

"We were reading a book and I said, 'Oh, look, a little deer.' And Jaid said, 'Mom, that's a caribou,'" she laughs. "I was like, 'Oh, shut up. What do you know about caribou?' No, but really, they're very verbal and amazing."
And in addition to school smarts, Beauvais is in awe of the skills that her sons, who turn 4 next month, have picked up outside of the classroom as well.
"The other day we went to a barbecue and there was a gift bag – which I'm so tired of because they're setting my kids up – and Jax said, 'Oh, a gift bag!' And Jaid said, 'Are you thinking what I'm thinking?'" she recalls.
"First of all, I've never heard them talk like that, so I'm wondering what they're thinking, and Jaid says, 'Cars movie cars in the gift bag!'"
— Anya Leon with reporting by Reagan Alexander