Emily Deschanel: 'Creating a Child Blows My Mind'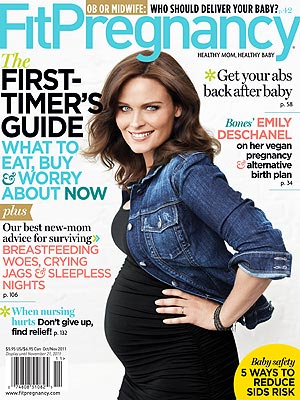 Courtesy Fit Pregnancy
The journey to motherhood is one miracle that has left Emily Deschanel amazed throughout her entire pregnancy.
"I really like being pregnant. Not that there aren't things I don't love, but when I think about what my body is doing — creating a child — it just blows my mind," the Bones star, 34, reveals in Fit Pregnancy's October issue.
"I'm in awe of the process and science. And seeing my belly move is pretty amazing: it's like in the movie Alien."
And while she's loving the experience of carrying her child, Deschanel is just as excited to hold her baby, whom she and her husband, It's Always Sunny in Philadelphia's David Hornsby already know the sex of, but aren't sharing.

"Besides meeting the baby of course, I look forward to that bond, the love that people say is stronger than you can imagine," she says. "Also, I think getting to see everything fresh, through a child's eyes, is a wonderful thing."
Until the big day arrives, however, the actress is keeping busy staying fit with prenatal yoga — and by curbing her sweet cravings!
"Lemonade! I want it all the time. That and grapefruit. Those cravings I indulge," she admits. "But I also crave chocolate all the time, and I try to ignore that."
In the final stretch of her pregnancy, Deschanel has decided on her birth plan — which will include hypnobirthing and a doula — and already envisions her family's future once baby arrives.
"I'm a total hippie, so we will co-sleep and breastfeed. My mom breastfed me for more than a year and I can't imagine doing it any other way," she explains. "It's cheap and much better for the environment … I'm not saying it's for everyone, but I'm determined, even if it's hard at first."
Also difficult, she admits, will be the balance of baby with her long hours on set, but Deschanel is already making arrangements to keep her child close.
"I'm lucky because I'll have a nanny and I'll also be able to bring the baby to work," she shares. "Otherwise, I'd never see him or her."
While baby-on-the-way may be her first, Deschanel is confident she can handle the hurdles. "It's kind of ironic, because you do get so much advice, but someone told me, 'Trust your instincts.' I love that," she muses.
— Anya Leon