Chef Domenica Catelli Helps Parents Get Kids to Eat Healthy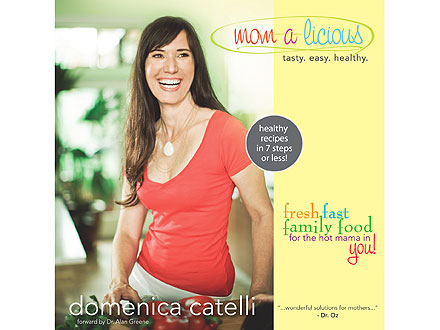 Courtesy Domenica Catelli
When her now-16-year-old daughter was born, chef Domenica Catelli saw firsthand how exposing her to a wide variety of foods helped her form a healthy eating habit later in life.
"She was my guinea pig," she tells PEOPLE. "I really got to see how giving her access to different flavors at an early age, what that did to her palate. Children have the most taste buds they're ever going to have in utero, so when they're young, that's the time to expose them to different flavors."

For parents concerned with getting their little ones to be more adventurous in their diets, Catelli recommends keeping it simple, especially when trying to incorporate more greens and vegetables into the mix.
"Kids don't like certain vegetables because it's a familial thing, because parents don't like it so everyone just grows up thinking that it's bad. Other times, it's just a textural thing," she says. "What I found is that by keeping it simple and not overcooking them, there really is this switch in what kids think about it."
A good starting point for parents to begin implementing these changes is with their kids' lunches, where ingredients in already-loved meals can easily be swapped for healthier alternatives. For example, skipping potato chips and oatmeal pies in favor of Kashi TLC Pita Crisps or TLC Peanutty Dark Chocolate Layered Granola Bars, or crafting a mini-parfait from Bear Naked Peak Trail Mix, kefir and fresh fruit instead of traditional yogurt or pudding.
But even if parents don't have the time to prepare healthier lunches by hand, better eating can be achieved through store-bought options — as long as you know what you're looking for.
"Understanding what's out there that you can have and feel good about is important," Catelli says, noting that parents should be looking for products with ingredient labels that "don't require a PhD to decode." "If you can make your own hummus, that's great, but there's really great ones you can get at the store already made for you."
Furthermore, when it comes time to grocery shop, Catelli adds it's always better to bring the kids along.
"The younger you can do that, the better," she says. "Get them in the produce aisle and start doing a game of 'Let's pick something different that's red', or green, and get them to interact and be part of that process."
While the transition may be difficult at first, Catelli emphasizes that the benefits of healthier eating, for the entire family, will far outweigh the early struggles.
"It's almost like exercise," she says. "If you get out of the habit, you don't want to do it. But once you start doing it, you feel so great. It's the same with cooking."
— Kiran Hefa