BumpWatch: Charlie Day and Mary Elizabeth Ellis – Sunny Smiles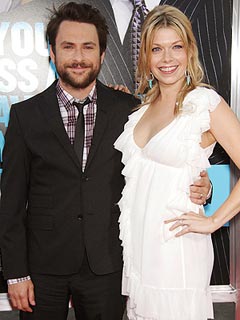 KGC-11/Starmax
Dumpster baby!
Charlie Day and Mary Elizabeth Ellis pose at the seventh season premiere party for their show, It's Always Sunny in Philadelphia, on Tuesday in Hollywood, Calif.
The couple expect their first child in early to mid-December.
"It's going to time out perfectly," Day, 35, told PEOPLE recently.
"We live in L.A., [so] my East Coast family and her Southern family may have to come see us this Christmas."
Meanwhile, costars Kaitlin Olson and Rob McElhenney's son Axel turned 1 on Sept. 1, Glenn Howerton welcomed son Miles on Sept. 12, and David Hornsby expects his first child this fall.
RELATED: Charlie Day, Mary Elizabeth Ellis Expecting First Child