Spit That Out!: A Realistic Guide to Keeping Your Kids Safe and Healthy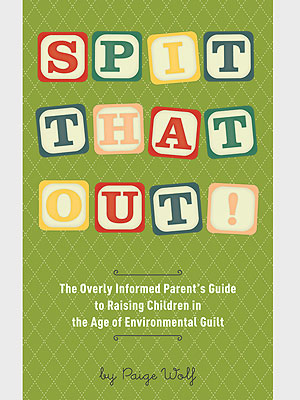 Courtesy Lombard Books
Paige Wolf knows a thing or two about what it's like to be a worrying new mom.
When the publicist got pregnant with her first child, she realized how many things there are to agonize over especially if you want to raise your baby in an eco-friendly world.
After learning as much as she could, Wolf decided to write a book — Spit That Out! — to help other eco-anxious parents get over their rational (and sometimes a bit irrational) fears.
Recently, we had the pleasure of chatting with the author to pick her brain about ways to keep your kids healthy and how to ease the stress of making their environment as safe as possible.

As she often says, "Perfect is unattainable. But better is always possible." Check out our interview below:
What are your go-to resources for family safety information? Are there steps you follow when trying to determine which products are or are not safe for your child?
In general, my go-to resources for safety info are Healthy Child, Healthy World and Environmental Working Group, which feature downloadable cheat sheets including plastic guides and the "dirty dozen" produce lists. I also look up toys on independent consumer research blogs, including Z Recommends and Safe Mama. I also shop trusted online eco-friendly kids boutiques Mighty Nest and Rosie Hippo.
Your book is all about being flexible when it comes to family safety and how to make wise choices without a lot of stress. But is there anything you won't allow your own child to play with or eat?
For the most part, I know that I can only control what he does in my home environment. As he gets older and spends more time in preschool, I have less control, which I have to accept. I don't know that there is anything entirely off-limits (apart from the obvious, like knives).
He has had plenty of birthday cake and more Goldfish crackers than I'd prefer, but I don't want him to be the only kid in the room who can't have an Oreo. My hope is that as parents become more aware of health and environment issues, there will be less Oreos at birthday parties and more Whole Foods organic animal crackers. Right now, the most important thing to me is that he's invited to the parties, no matter what they are serving!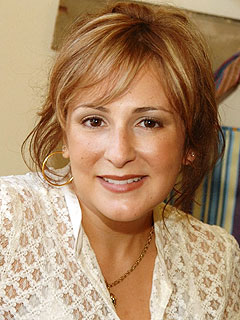 Courtesy Paige Wolf
In terms of child safety, do you think it's better or worse for moms today? Is ignorance bliss? Or are we better off than our mothers because we are more aware of which toxins are dangerous and should be avoided?
That's a very hard question because every generation of mothers has had their own struggles and I don't want to diminish anything our grandmothers had to deal with — flu epidemics, the Great Depression, women's rights. But as far as health and environment, I don't think it's entirely a matter of ignorance.
Sure, it would have been helpful if there were more anti-fast–food advocates in the '80s so McDonalds wasn't everyone's first choice for birthday parties. But 30 years ago, there were far less chemicals in everyday items — the rise has been dramatic in the past couple of decades — and I believe it correlates with the rise of obesity, asthma, ADHD and a host of other ailments.
Many of these issues simply didn't exist years ago so it wasn't something parents had to think about. The "ignorance is bliss" part does play a part, though — global warming didn't start overnight. But the majority of Americans were pretty much unaware of the severity of the problem until the past decade. We are certainly better off being in a position of awareness to improve these problems, but that certainly doesn't make it any easier.
What are your top five ways to keep a child as healthy as possible?
I try to get in as many organic fruits and veggies as possible. My son is going through a very common no-veggie phase, so even with "sneaky chef" tricks, it's been hard. Fortunately he loves fruit so we stock up on organic blueberries, cherries and strawberries on sale and freeze them so they'll last into the fall.
I avoid BPA plastics. And I try to avoid kitchen plastics in general but it's really tough, especially when the plastic sippy cups seem to be the most resilient. We do like the silicone-coated glass ones from Life Factory. We use all natural bath and body products. That's non-negotiable. There are so many great brands of non-toxic baby wash, sunscreen and diaper balm.
When Sam was a newborn we were terrified of germs — it was "Swine Flu season." But once he got some meat on his bones we were all for a little "dirt." I don't think it's a good idea to over-sanitize. Purell in a pinch after a bad poop, for sure. But I don't panic if he eats cereal off the floor.
I try to do everything in moderation. I think if we completely deprive him of "bad foods," he could rebel and get extra satisfaction out of sneaking candy as a tween. So we just try to establish good habits and make it clear that certain snacks are for "special occasions." Although that makes them sound like prizes, so I'm open to any other ideas!
Kids are inevitably going to fall off bikes or catch chicken pox. Even the most cautious, careful parents have suffered inexplicable childhood illness and accidents. Sadly, some things are entirely unpreventable and seemingly random. But I feel like if I can at least control what kind of soap my children use and what kind of milk they drink, I can do my part to minimize risk and help stack some of the odds in their favor.
Do you have any favorite eco-toy brands?
I'm a big fan of Green Toys, which are made entirely of recycled plastic milk jugs and made in the USA. For wooden toys that are far from boring, I like Plan Toys. Both brands are widely available so there's no excuse to say green toys are too hard to find!
— Stephanie Phoenix