BumpWatch: Beyoncé and Jay-Z's Sweet Squeeze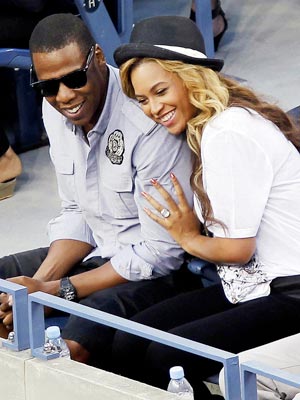 Peter Brooker/Rex
Cute cuddle!
Mom-to-be Beyoncé Knowles finds a strong shoulder to lean on, thanks to hubby Jay-Z, during the U.S. Open tennis finals in Flushing, N.Y., on Monday.
The singer, 30, announced her pregnancy in August at the MTV Video Music Awards, where she teased, "I have a surprise" before showing off her belly.
"They told friends in the last month," a source tells PEOPLE.
"She's never been happier. Seriously it's all she's been waiting for. And Jay is like an excited kid. They're adorable."