Learn to Stay Connected with Reconnected Kids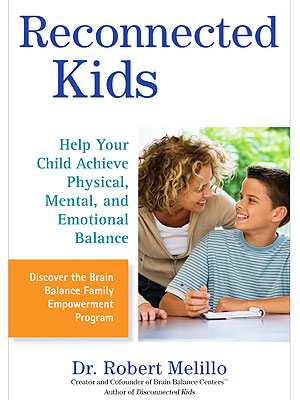 Courtesy Perigee Trade
For today's parents, getting through to children in an age of advanced technology — cell phones, the Internet, video games, etc. — can be a struggle, but Dr. Robert Melillo says this modern problem can actually be solved with an old-fashioned solution.
"What I'm trying to bring back is old school parenting," he tells PEOPLE, "the way that I was raised and the way that I think parents in years gone by used to raise their kids."
To aid parents dealing with behavioral issues in their children, Dr. Melillo penned his second book, Reconnected Kids, in which he provides guidelines for getting families back on track, starting with setting a plan.

In his research, Dr. Melillo found that, "the biggest problem we had to overcome was that both parents were not on the same page when it came to what they expected from their children," he says. "The number one reason amongst any child for bad behavior is really an inconsistency of message from the parent."
To correct that, he advises parents to come together and outline a list of expectations and rules for their children. After reaching an agreement, parents should then bring their kids into the discussion.
"The only way they're going to really engage in something is for them to be a part of that process," he says. "There's structure in the family, which is ultimately what every child wants and needs."
Having dealt with behavioral issues in his own children, Dr. Melillo — a researcher within the fields of neurology and childhood disorders — says he relates to what fellow parents are going through, and has applied these principles to his own family.
"One of the basic things I talk about is whatever you focus on, you get," he says. "If your kids wake up in the morning and the first thing you say is, 'Don't do that, don't do this, don't go to school and cause a problem,' etc. If you're just focusing on the negative, that's what you're going to get in your children."
"You have to be able to sit down and know what you want," he explains. "You have to know why you want that and then the action steps become pretty clear. I did this program with my children when they were five or six-years-old. Many of their goals that we talked about at six, they're actually accomplishing now."
As long as parents are willing to put in the work, achieving positive outcomes is easily doable according to Dr. Melillo.
"If they sit down, and write out rules and values, and then sit down with their kids, that's going to make a huge difference in their family life," he says. "Not only just immediately, but moving forward. It will completely change the teenage years. It will teach the kids how they should be with their own children moving forward. It's something that anybody can do."
– Kiran Hefa