Kendra Wilkinson: Motherhood's Magic Is Lots of Laughs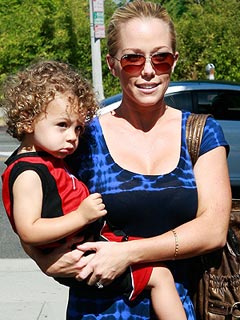 Denis Castro/Beverly News
For Kendra Wilkinson, the best medicine for tackling son Hank's tantrums is laughter — and lots of it!
"Don't take everything so seriously. If he cries for two hours, I'm going to laugh at him for two hours because he's turning 2," the reality star, 26, tells Baby Zone.
"So he'll go for about two hours screaming and crying non-stop and all he wants is me to pick him up."
In the end, however, it's mostly all fun and games for the tight-knit trio, which includes husband Hank Baskett.
"We have a lot of personality in our family and we love each other so much. We can talk smack to each other and laugh about it and have fun with it," Wilkinson shares, adding the couple's 21-month-old is "getting that too."

Noting that her son is already making his mama proud with his softer side, the Being Kendra: Cribs, Cocktails, and Getting My Sexy Back author admits Hank's pleasant personality isn't that far off from that of his parents.
"Baby Hank is the most thoughtful little boy. He cares so much about others, more than he cares about himself," she says. "And whenever I see him share with someone or give someone a hug or be thoughtful, that's the best thing to see … He naturally is a warm person."
Her laid back attitude toward parenting isn't anything new, according to Wilkinson, who was able to make light of a common mommy moment shortly after welcoming her baby boy.
"My first party after giving birth to Hank, I went to Eve nightclub in Vegas and my boobs started leaking," she laughs. "I couldn't do anything so I breastfed myself. And it tasted sweet, too!"
— Anya Leon