5 Tips to Help Keep School Mornings Sane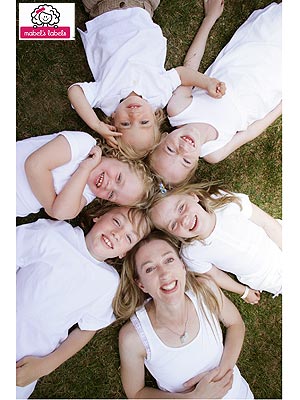 Courtesy Mabel's Labels
As a mother of six kids under 11, including a bright and talented autistic son, Julie Cole knows a thing or two about raising a big family.
And along with juggling her big brood, she also runs a successful business as vice president of Mabel's Labels, Inc.
So getting herself and her little ones out of the door in the morning without a hitch is a top priority.
How does she do it?
With a lot of organization — and humor!
To help you fill your school day mornings with smiles instead of stress, she's sharing her top tips and tricks.
Check them out below:

Set up a kid-friendly routine. Rather than wasting time nagging your kids to pack their homework or lunch, etc.,  give them the tools and encouragement to be more independent. At our house, we have a "Before School Plan" chart, which lists all of their morning duties. As they complete a task, they mark it off and then earn a reward point, which can be used to redeem prizes.
Organize yourself first. Get most of your to-do list — pack lunches, lay out school clothes — done the night before. I even put the cereal on the table! Once you're organized, make sure everything your kid needs in the morning has a home. For example, create a cubby for each child to hold their school gear. You can even let them decorate it.
Streamline lunch prep. To save time, I freeze sandwiches to use throughout the week, or make casseroles and soups on the weekend to throw in a Thermos when the colder weather hits. And instead of including juice boxes, which are too sugary anyway, I like to use refillable water bottles. They're much better on the environment.
Label look-alike items. I know it may be obvious advice from someone who works for a label company, but if you or your kids have ever found yourselves puzzling over identical looking clothes, shoes, school supplies or book bags, you'll know what a time-saver labeling can be. Best of all, labeling (our Classic School Pack is great!) will keep stuff out of the lost and found and make sure it all comes home at the end of the day.
Enlist mini helpers. If you hate having to drag a toddler or baby to the bus stop every morning, especially in the dead of winter, so you can get your bigger kids on the bus, here's an idea. Consider hiring an older kid who goes to the same bus stop and is happy to do the morning pick-up and afternoon drop-off for a cool $20 a week. "Bus buddies" are a very good investment for busy mamas.