Review: Graco's Signature Series 3-in-1 Modular Stroller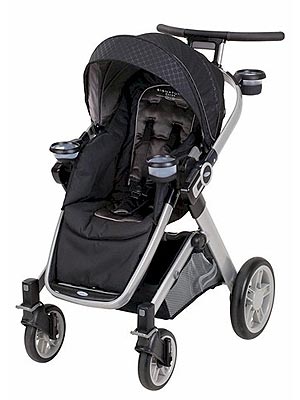 Courtesy Graco
What parent doesn't want a stroller that can do it all?
After all, bells and whistles can really make your ride that much sweeter.
But most parents can't stomach the sticker shock that often comes along with a luxe set of wheels.
Well, leave it up to Graco to find the perfect balance between your wish-list and your budget with their new Signature Series 3-in-1 Modular Stroller ($300).
Want to learn more? Check out our review below!

Things We Like:
Let's face it: Many of us love the look of modern-day strollers and this new design doesn't disappoint. From the sleek seat to the appealing and easy-to-clean fabric, Graco has really set this system apart from the rest.
While the stroller still features their classic plastic wheels, the ride is pretty smooth for both mom and baby with little to no bounce for those afternoon strolls to the park. Plus, keeping all your mommy must-haves close by is super easy with the roomy (and expandable!) basket and two cupholders.
Best of all? This stroller really grows with your baby and is easily adaptable to fit your needs. To use it with a newborn carrier, simply remove the chair and use the insert sling with the metal frame. This allows parents to keep their little ones close as the car seat carrier is slightly elevated — bringing baby 7 inches closer.
Once your baby outgrows the infant car seat, switch it out for the reclining cushy chair, which can be positioned either facing you or — for those curious cuties — facing outward to check out their surroundings. It can also be adjusted as a three or five point harness to keep your little one secure.
Things We Didn't Like:
Putting the stroller together is simple, but once you're up and running, figuring out how to switch between the car seat sling and chair may take some time.
And while the stroller frame folds almost completely flat (great for storage!) and is easy to carry, the seat must be taken out first.
Finally, although the stroller is made for a child up to 50 pounds, it could be a tight fit once your child is in the toddler stage. There is plenty of leg room when the chair is facing outward, but, for taller children, their head may hit the sunshade when they're sitting back in the seat.
Moms & Babies Rating:
If you're on the hunt for a sleek- and chic-looking stroller that won't break the bank, this ride should definitely be at the top of your list!
— Anya Leon