What's In a Baby Name? Expert Candace Alper Weighs In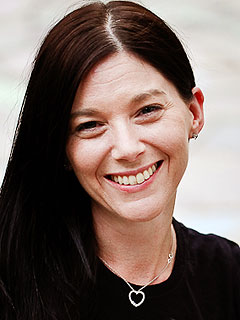 Courtesy Candace Alper
From how they dress to what they do, celebrities are no strangers to creating trends, so it comes as no surprise that their reach now extends to baby names.
"I think sometimes celebrities make it okay or make it interesting," baby name expert Candace Alper tells PEOPLE of why non-famous parents are choosing to give their children more unique and unconventional names.
"Celebrities put it out there, and it becomes an idea that people run with."
For example, Alper notes the popularity of names like Bronx, which caught on after the birth of Ashlee Simpson and Pete Wentz's son in 2008, or Coco, spurred by Courteney Cox and David Arquette's 7-year-old daughter.

But while Alper is a fan of both names, she emphasizes that parents should first and foremost choose their baby's name based on its personal significance for them, not how it sounds.
"I happen to really love that Natalie Portman named her kid Aleph because I think that when you look into what the name might mean to her, it's really strong," she says. "It's the first letter of the Hebrew alphabet. It's her firstborn son. It might be leader, it might be strength. I love a name that has a lot of meaning behind it."
Alper also recommends names with an interesting back story, citing Pink's heartfelt explanation of why she named her daughter Willow Sage after the unbreakable nature of the willow tree and the cleansing properties of sage.
"She'll share that story with her daughter, [and] when you share a story like that, it can't help but have an impact on the kind of person that you become," she says. "Kids love to hear a good story, especially when it's about them."
Ultimately, whether opting to go with a traditional name or choosing something more creative, Alper simply hopes parents take the selection process seriously, something new dad Paul Stanley can relate to.
"It's the first thing you give your baby, their name," Alper says, "and they have to live with it. One day, it will be on a marquee or a business card or a diploma hanging on the wall."
– Kiran Hefa