Why Matt Damon Is Nicknamed 'Red Alert'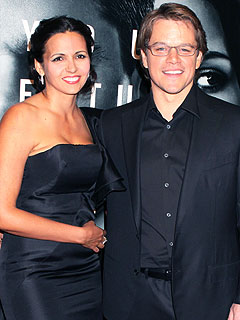 Fame
Being a father has turned Matt Damon into a cautious man.
"I'm probably more protective than I've ever been now that I have children," the actor, 40, told reporters Saturday at the press junket for his new film, Contagion.
And Damon's not the only one who's noticed the change in his demeanor.
"My wife [Luciana]'s nickname for me is 'Red Alert,'" he says with a laugh. "I sometimes check to see if the kids are breathing."
When it comes to parenting Stella, 10 months, Gia, 3, Isabella, 5, and Alexia, 12, "I tend be a little overprotective without trying to be a helicopter parent," Damon explains.

One thing that Damon isn't too guarded about is his hair — he recently shaved his head for an upcoming role.
"I love it. I see why these guys rock it," Damon said, referencing his Contagion costar Laurence Fishburne, director Steven Soderbergh and writer Scott Z. Burns, who all prefer the bald look.
"It's great in the summertime. It's really easy getting out of the shower."
— Patrick Gomez