Mini Must-Have: Sasha Schreiber's Cool Tee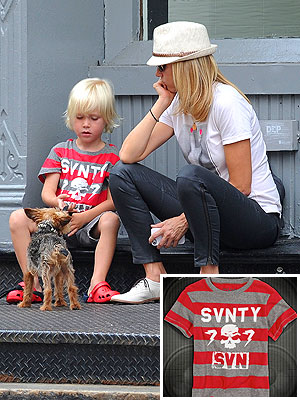 Doug Meszler/Splash News Online, Courtesy 77 Kids
On July 29, we spotted Naomi Watts and son Sasha Schreiber walking their pup in N.Y.C.'s East Village and we couldn't help but notice the 4-year-old's bright T-shirt.
After a little digging, we discovered he's wearing the Stripe Graphic T by 77 Kids.
Also available in black and gray, the weathered top is made with a soft stretchy cotton so it's super comfy. It's also now on sale for $10.
The adorable pre-schooler is also rocking matching red Electro clogs ($30) from Crocs.
We just love his coordinated outfit. But we're not surprised. With such a stylish mom, it only makes sense that Sasha would dress to impress.
RELATED: Star Moms' Back-to-School Style