Sarah Jessica Parker: James Wilkie Is Itching to Act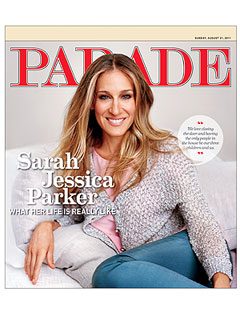 Courtesy Parade
It seems as if 8½-year-old James Wilkie is ready to follow in his actor parents' footsteps — but Sarah Jessica Parker isn't giving the green light just yet.
"I don't want him to do it until after he goes to college," the I Don't Know How She Does It star, 46, tells PARADE.
"But part of me thinks maybe it's better if he knows the truth now about how hard it is to be a working actor. I don't know if he grasps what it took to get us here."
According to Parker, one of the many sacrifices she and husband Matthew Broderick have had to give up is time spent with their family.

"We've had two occasions recently where both Matthew and I were working and it was so hard on the kids," she shares.
"On the other hand, there are big chunks of time when we're home a lot more than conventionally working parents. So you hope to make up for it."
Fortunately, despite their hectic schedules, Parker and Broderick — who only have hired help during the day — are able to constantly reconnect with their brood come nighttime.
"We love closing the door and having the only people in the house be our three children and us," the actress says. "It's such a good feeling to know that we're competent and capable and that it's private."
In addition to James Wilkie, Parker admits the couple's 2-year-old fraternal twins Tabitha and Loretta certainly keep them on their toes!
"They're talking, they're running, they need me. Loretta is deeply inquisitive, 'Do you see that, do you hear that, Mama?' She constantly checks that we're connecting with her," she reveals, adding her other daughter is all spunk. "Tabitha does not give; she receives."
— Anya Leon