Suri Cruise's Hat Switch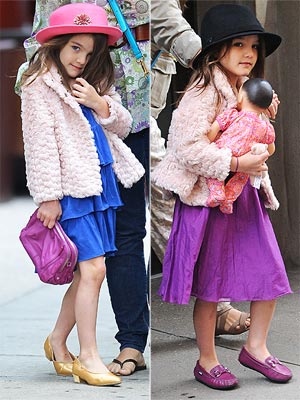 Flynet; Bauer-Griffin
Forget heels!
Suri Cruise's new accessory du jour is sophisticated hats.
On Aug. 16 in N.Y.C., the mini stylesetter started the day in a pink bowler hat, faux fur jacket, blue tiered dress, purple clutch and gold pumps.
Later on, the 5-year-old changed into DKNY Kids' Tropic Zone dress paired with matching Venettini Melody loafers, a black boho-style fedora — and a doll!
For most kids, these outfits would be a tad over the top. But we think Tom Cruise and Katie Holmes's little girl looks adorable.
TELL US: What do you think of Suri's ever-evolving style?