Ivanka Trump Enjoying the 'Everyday Moments' of Motherhood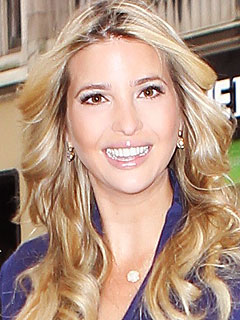 Pena/Hall/INF
New mom Ivanka Trump is basking in bittersweet baby bliss since welcoming daughter Arabella Rose, her first child with husband Jared Kushner.
"The most fun part of being a mother so far is watching Arabella grow and experience different things every day; It is also the hardest part though!" the fashion designer, 29, tells Today.
"I feel like she will be out of the house and off to college before Jared and I know it."
Fortunately for Trump, she is savoring each second spent with the 4-week-old — even if it means making sacrifices.
"It is easy to want to talk on the phone or read the paper while feeding a baby, but taking a break and enjoying those everyday moments is extremely rewarding," she shares.

As for baby girl's name, Trump and Kushner had no problem deciding on a moniker that was creative yet still held special meaning for the couple.
"I have always loved the name Arabella, and Jared's grandmothers had names beginning with an A and an R," the Celebrity Apprentice judge explains. "We wanted to pay a subtle homage to those two strong and wonderful women while also adopting a name that was very unique. Plus, we thought that the initials — ARK — were cool!"
— Anya Leon