Kelly Preston 'Floored' to Find Out She Was Pregnant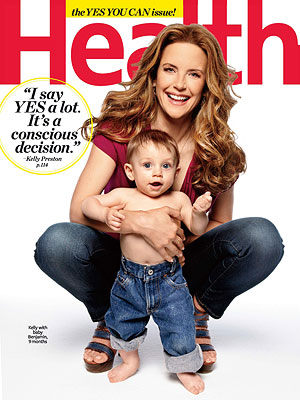 Courtesy Health
After two difficult years following the death of her 16-year-old son Jett, Kelly Preston radiates happiness — thanks in part to her baby boy, Benjamin Hunter Kaleo.
"I'm just in a good place, and am able to really be with my kids," Preston says in the September issue of Health.
"It's pretty amazing having a child at this age."
The actress, along with husband John Travolta, welcomed her now 9-month-old son last November.
"I didn't have any doubts [about having a baby at 48]," she says. "I love being pregnant. I love the closeness I feel when I'm carrying them."

"We had been trying for quite a few years, and then of course there was a time when we weren't, and then we started trying again," continues Preston.
"When I found out I was pregnant, I was floored. I'd snuck out of bed and then came back and woke Johnny up in bed. We both started crying. It was wonderful."
Preston will next be seen costarring alongside Travolta and their daughter Ella Bleu, 11, in a film about the Gotti crime family — if she can take time away from kissing her kids.
"I absolutely adore my kids. Johnny and I love them up constantly," Preston says. "Ella's like, 'Mom, ugh! Thank God you had Ben because now he can take some of the kisses.'"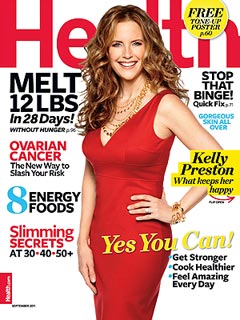 Courtesy Health
— Alla Byrne