Rachel Zoe: I've Become a Baby Pusher!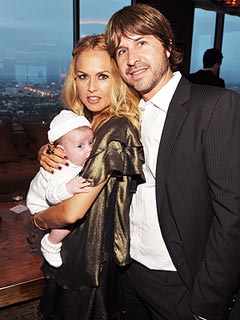 John Shearer/Getty
Celebrity stylist Rachel Zoe says she's "living proof" that women can juggle a successful career and a family simultaneously.
The new mom will have her 5-month-old son Skyler Morrison in tow for upcoming fashion weeks in Europe and New York, she tells ET Canada, adding, "I've only spent one night away from him since he's been born."
Zoe — who famously waffled over the decision to have a child — now calls herself a "baby pusher" and shares this advice for women contemplating having kids: "If you're thinking 'Should I? Shouldn't I?,' you should!"
The designer, 39, has good things to say about motherhood, sleepless nights and all.

"It's the greatest thing in the entire world," she tells ET. "Every day I ask my husband [Rodger Berman], 'Is it possible to over kiss your child?' I literally think I kiss him 200 times in a day. It's not normal!"
"It does change your life," she continued. "It does turn it inside out and upside down, but in the best way possible. The difference is you don't care because you're altering your life for the best reason in the world … He's everything."
The star of Bravo's The Rachel Zoe Project says she keeps Skyler dressed to the nines — but she's already preparing herself for his eventual rejection of her fashion advice.
"I put him in really beautiful clothes, but they're all soft and comfy. I think he's going to rebel and just be like, 'I'm wearing a soccer uniform,'" she says with a laugh. "'I'm wearing Adidas and Nike, Mom. That's it.'"
Truth be told however, that's just fine with Zoe.
"I'm going to have to deal with it, because kids need to express themselves," she notes. "I don't want to control him that way. Style is the best way to say who you are without having to open your mouth."
— Liz Raftery