Spotted: David Charvet and Rain Make a Splash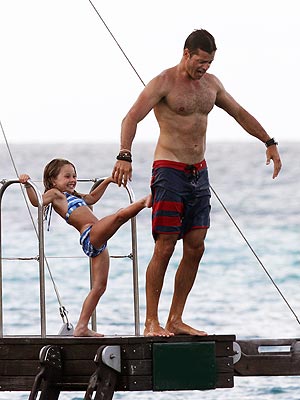 Fame
In you go!
David Charvet gets a little assist into the water from daughter Rain, 4½, while the family vacationed in St. Bart's on Tuesday.
The actor and new wife Brooke Burke are also parents to son Shaya Braven, 3.
"He is the baby of the family, so Rain in particular takes incredible care of her little brother," Charvet, 39, tells PEOPLE.
"She's always after him, making sure he's okay, holding his hand while walking down the stairs. If he falls, she's there to pick him up."
RELATED: Brooke Burke and David Charvet Wed