Tori Spelling: My Kids Mended My Relationship With My Mom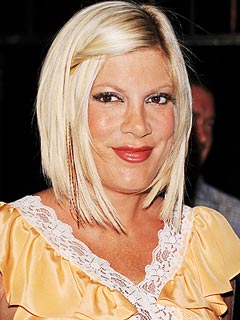 Jean Baptiste Lacroix/WireImage
Life has come full circle for Tori Spelling.
Following a public feud with mom Candy, the expectant reality star credits her children — Liam Aaron, 4, and Stella Doreen, 3 — for mending the distant mother-daughter relationship.
"The kids [brought my mom and I back together], especially at their age," Spelling, 38, recently revealed to Good Morning America.
"When they were babies it was important, but now they ask for her, they want to be with Grandma."
And as much joy as the kids bring to her mother, Spelling is equally as emotional when watching the three together.

"When I see her doing things with the kids it reminds me, 'Oh my gosh, I remember when she did that with me,'" shares Spelling. 
"She was giving Stella butterfly kisses one day and she turned to me and goes, 'Do you remember?' And I said, 'That you used to do that with me?' And she goes, 'Yeah.'"
Having left their tumultuous past behind, Tori and Candy are now nurturing a completely new bond.
"You get to have a whole new relationship with your parent through your children and I think that's a really nice experience," the actress notes. "No matter what has happened or has been said, you still love your parent no matter what and the parent loves the child no matter what."
Expecting her third child — a delivery surprise! — with husband Dean McDermott this October, Spelling admits her decision to get breast implants haunts her now more than ever.
"I got my boobs done … in my early 20's and if I had known that it would or could possibly impact the production of milk I would never have had them done," she explains. "I mean, I love being a mom. I'm on my third baby [and] we want to have more. That's my role — these [breasts], these don't matter."
— Anya Leon