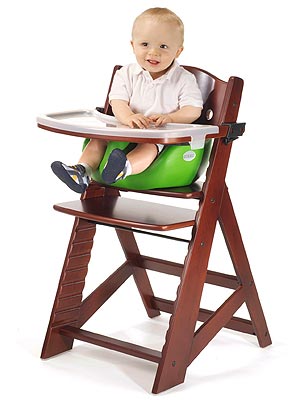 Courtesy Keekaroo
Your baby's high chair is one of the hardest working pieces of furniture in your home.
At least three times a day, it's assaulted by a messy kid (and equally messy food!) and responsible for holding your baby's ever growing weight.
So, whichever one you choose needs to be both strong and easy to keep clean — and not many of them are.
The Keekaroo Height Right High Chair ($150) is both. Plus, the stylish, durable chair is guaranteed for a lifetime.
Check out our review below:

Things We Like:
The ergonomic design is sleek, yet functional. The tip-resistant chair and footrest adjusts throughout your child's growth cycle to hold unimaginable weight: up to 250 lbs.
The company promises that it will be the only high chair you'll ever need — from infancy to the college years, literally! — and after testing it with our own body mass (muscle and muffin top) we definitely believe them.
Made from sustainable rubber wood, the easy to assemble chair comes in two colors (natural and mahogany) that blend with almost every home décor. The comfy infant insert does add a fun splash of color.
But, more importantly, the chair makes the statement that your home is not a daycare center, but a polished, purposeful place, that happens to have some little people living in it.
And no matter how much tomato sauce your little one mashes into the crevasses, it's so easy to clean. The plant-based lacquer finish is as effective as Scotch guard on upholstery. Simply wipe it down with soap and water and you're done. It also comes with a BPA-free tray that's dishwasher safe.
Things We Don't Like:
While we love the large meal tray, its got one major design flaw busy moms can't ignore: you need two hands to pull it out. When you're holding baby in one arm, it would be nice to be able to pull the tray out with the other.
Moms & Babies Rating:
If you like chic baby furniture that's built to last, then look no further than the Keekaroo Height Right High Chair. It's definitely the option for you.
– Amy Jamieson