How to Make the Most of Your Family Road Trip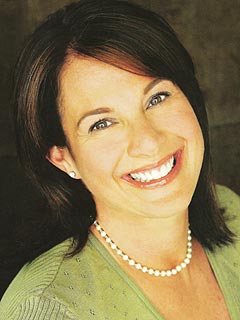 Courtesy Emily Kaufman
When it comes to planning road trips with her family, travel expert Emily Kaufman abides by an old rule: it's not about the destination, but the journey.
"You want to create the memories in the road trip itself," she tells PEOPLE. "You never know where the fun, silly stuff is going to come from."
To that end, Kaufman recommends taking time for impromptu visits to roadside attractions or local events along the way, and making stops whenever necessary.
"It is not realistic to go from point A to point B without stopping," she says.

"With my family, we keep a laundry basket with a soccer ball, football and a jump rope in the back of the car. When the time's right, we stop off at a park, have a picnic lunch, kick the ball around, and let the kids blow off a little steam. You can always find schools that have play areas if you don't see a park itself."
Furthermore, Kaufman advises creating a "boredom bag" out of a travel-size cosmetic case that can be hung from the driver or passenger-side seatback for long stretches of driving.
"You fill each pocket with different age-appropriate activities, things like books on tape or handheld electronic games," she says. "I put snacks in there, water bottles. That keeps everybody occupied and it also keeps all of their stuff organized. So if you've got more than one kid especially, it keeps everything together in a great way."
As with any vacation, Kaufman says the most important aspect of a successful road trip is to plan ahead and, "arm yourself with information." And even when traveling with small children, don't underestimate the impact the trip will have on them.
"I think sharing the world with your kids is one of the greatest gifts you can give them," says Kaufman, who's partnered with Hersey's Twizzlers to get the word out. "It teaches them so much about appreciating what they have. Start it as early as you can."
– Kiran Hefa