James and Kimberly Van Der Beek: Olivia Is Walking!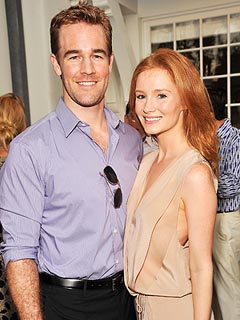 Gary Gershoff/WireImage
First-time parents James and Kimberly Van Der Beek are celebrating a major milestone: daughter Olivia is on the move!
"She took her first steps last week on [the day she turned] 10 months," the proud mama told PEOPLE during a Saturday Baby Buggy event in East Hampton, New York. "Just a couple of steps."
And with the grandparents visiting, Olivia "waited for the spotlight" before showing off her latest skill.
"She was very careful, cruising along between the table and the couch," says the actor, 34. "She decided, all right, I'll just take a few steps to get there."

Also on Olivia's list of accomplishments? Testing out her vocals, says Mom.
"She's doing a lot of babbling," Kimberly shares. "She's got the l's, the m's. She says, 'Gabba' for Yo Gabba Gabba! [and] Mama, Daddy."
— Anya Leon with reporting by Jeffrey Slonim