Jessica Alba: Quality Over Quantity for My Future Films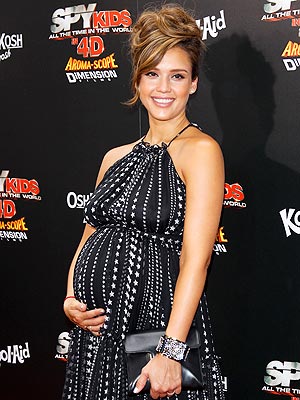 Michael Tran/FilmMagic
Now more than ever, life is imitating art for Jessica Alba.
Already mom to 3-year-old daughter Honor Marie, the actress — who is expecting her second child with husband Cash Warren next month — admits her latest role in Spy Kids 4: All the Time in the World wasn't a stretch in the least.
"I don't know if I would have even done this movie if I weren't a parent," Alba, 30, told reporters during a Saturday press event for the film. "So I actually brought my real-life experience to work, for sure."
However, while she finds herself widening her horizons on the big screen, Alba is more focused on finding the right project to suits her — and her growing family.

"It's more about the time commitment and also the people I'm working with than anything," she says. "Before it was more, 'What's the distribution, what's it going to do for my career, how big is the paycheck?' And now it's like, 'Am I going to grow as an actor and is this going to be a challenge? … Is it going to be six months out of the year or is it going to be two weeks?'"
And for her next big project, Alba already has her sights set on a return to a fast-moving project similar to Dark Angel.
"I'd like to do an action movie. It would be really fun to get back in that game," she reveals, adding first she would need to shed her pregnancy pounds. "I would obviously have to train for whatever it is. After [the baby is born], I do have a workout routine to lose baby weight."
Fortunately, her pregnancy cravings are in check, with Alba's main request being fresh fruit.
"I've really craved watermelon," she shares. "I think it's because it's summer — because it's hot."
Happy to talk about her upcoming arrival, the mother-of-two isn't so forthcoming when it comes to her thoughts on expanding her brood even further.
"I'm at the end of a pregnancy!" she says with a laugh. "It's sort of a cruel question to ask. 'You've been pregnant for almost a year now. Want to have more?' It's like, 'Ugh, I can't really imagine that right now.'"
— Anya Leon with reporting by Gabrielle Olya