Autumn Reeser Makes Pampering Herself a 'Priority'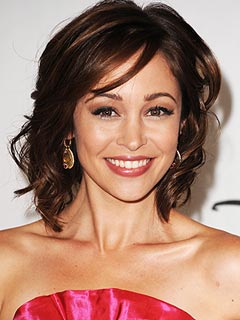 WireImage
It's all about staying an ordinary family for new mom Autumn Reeser!
Since welcoming 11-week-old son Finneus James, her first child with husband Jesse Warren, the actress has done her best to maintain a seemingly normal schedule.
"I always feel better if I take the time to do my hair and makeup and get dressed well in the morning, so that was a priority to me to make work, even with a newborn," the former No Ordinary Family star, 30, tells What to Expect.
"Our new routine: After I feed Finn in bed in the morning, I give him to my husband to cuddle for 20 minutes while I get time to myself."

Fortunately, her years working onscreen more than prepared Reeser on covering up any evidence of late nights with baby!
"I'm very used to sleeping and waking at odd hours, so there are certainly days when I'm happy to have products I can count on," she shares. "Right now I'm relying on Clé de Peau concealer, Nars Orgasm blush, and a good lip color when I go out."
But even when the lack of shuteye is more than a new mama can stand, Reeser encourages new parents to still take time to "savor" each and every moment.
"Before you know it, your once teeny baby will be toddling around the house and you'll be longing for the days when you could cuddle his tiny body in one arm," she says. "Even while you're fighting through the lack of sleep and diapers and leaking milk, recognize that not too far in the future you will be missing these days with this brand new little person."
— Anya Leon