Ali Landry: Estela Is 'Living It Up' on Vacation in Louisiana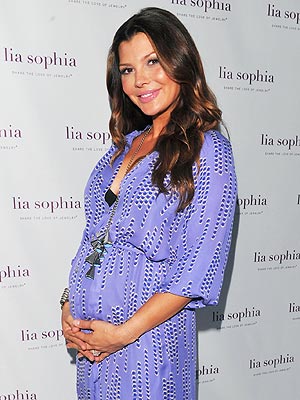 Alberto E. Rodriguez/Getty
She may be busy preparing for the October arrival of her second child with husband Alejandro Monteverde, but Ali Landry is temporarily suffering from an empty nest!
The couple's first child — daughter Estela Ines, 4 — is currently spending time with Landry's mother in Louisiana and the expectant mama is more than feeling the loss.
"I have to threaten her to talk to her. I have to say, 'I'm going to come and get you if you don't talk to me on the phone!'" the model, 38, told PEOPLE during the Lia Sophia Social Fashion Soiree at the Sunset Marquis in West Hollywood on Tuesday.
"I asked her the other day, 'Are you ready for Mommy to come get you?' and she said, 'Not yet … It's a little late tonight. I need to go to sleep.'"

While Estela "is living it up and having a good time," Landry is taking advantage of her free time by preparing for baby. After being unable to nest before giving birth to her daughter — the couple were busy remodeling their new house — the actress is more than making up for it now.
"I am in major nesting mode right now in this pregnancy. I have touched every single corner, every single drawer in my house," she shares. "It just feels so good to get your house organized and clean, especially with the phase that I'm in now."
And that's not the only thing that is falling into place for Landry: after a rough first trimester, in which she quickly packed on most of her pounds, she reveals it all has balanced out beautifully.
"I was eating like a man, out of control. I was working out a lot, like three times a week. My routine was hardcore, but I was eating like a little piglet and it was all carbs because I was really nauseous," she laughs. "Now I'm eating extremely healthy — not that I'm even trying to — but I just eat what I crave."
— Anya Leon with reporting by Reagan Alexander