Denise Richards: I Always Planned On More Children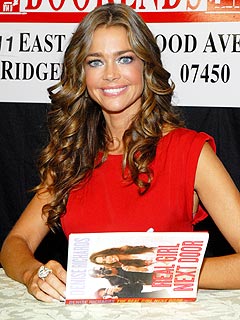 Michael N. Todaro/Getty
Already mom to Sam, 7, and Lola Rose, 6 — her daughters with ex-husband Charlie Sheen — Denise Richards knew her family wasn't quite complete.
However, her single status left The Real Girl Next Door author contemplating whether to add to her brood by herself or hold out hope for the future.
"I've always wanted more children and [I] had to make a decision: Do I wait to find the right partner or do it on my own?" Richards, 40, shared during a Tuesday appearance on The View. "So I just did it on my own."
Now the proud new mom of 6-week-old daughter Eloise Joni, Richards admits the journey to her baby girl wasn't an easy one. "I was actually open to either gender and I started the process two years ago," she says.

Fortunately, the transition from a family of three to four has been a smooth one and no one could be more excited than Eloise's new big sisters.
"The older ones are so great [and] the baby is such a blessing," Richards reveals. "Sami and Lola help so much and pick out her clothes and feed her."
Formally introducing the newest addition during a July 23 baby shower, Richards raves the special day was exactly what she had envisioned.
"I thought [Eloise] deserved [a party] and it was a wonderful way for my friends who hadn't met her yet to meet her," she explains. "[The theme of the shower] was a take off of Eloise the movie, so it was lovely."
— Anya Leon