Lindsay Davenport Expecting Third Child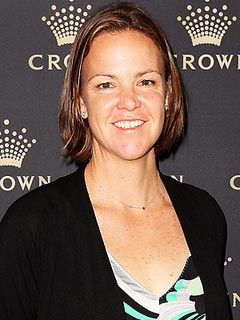 Graham Denholm/Getty
Lindsay Davenport is set to hear the pitter-patter of more little feet around the net: the tennis pro is expecting her third child — a girl — with husband Jonathan Leach.
The new addition will join siblings Jagger Jonathan, 4, and Lauren Andrus, 2.
Davenport, 35, was forced to withdraw from the World Team Tennis Pro League after experiencing complications.
"Dr. put me on rest," she Tweeted earlier this month. "I feel so bad about … having this happen at last minute, but have to listen to my Dr. and do what's best for baby."
Thankfully, "things are better and looks like another girl," Davenport writes this week.

"[Jagger] not excited. Asked why Lolo got a buddy but not him … so typical Jon promised him another baby (boy) right after."
In June, Davenport won the French Open's Women's Legends Doubles event with partner Martina Hingis.
— Sarah Michaud