Gilles Marini: I 'Absolutely' Want to Adopt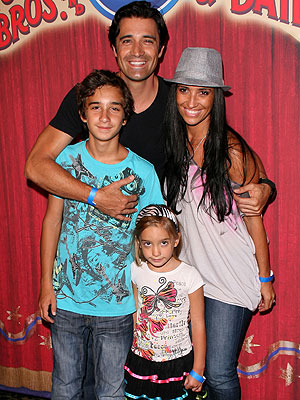 Amanda Parks/Splash News Online
Gilles Marini is no longer lending his good looks to create adorable children.
The actor and former Dancing With the Stars finalist says he and wife Carole are done reproducing — but that doesn't mean they're necessarily over having children.
"If we ever have another child, it would absolutely be an adoption," Marini, 35, told PEOPLE at opening night of Fully Charged, a Ringling Bros. and Barnum & Bailey circus production.
"In my mind, I'm like, 'I have both of my kids. Done. Check. Let's help someone who has no parents. It makes sense.'"
Marini, who is already the proud papa to Georges and Julianna, says the adoption process is "absolutely" likely to happen.

"Let's see what my next two years work-wise are about, and if they're bright, then easily," Marini, who will guest-star on Switched at Birth Aug. 8, explains. "Even kids from the region — there are a lot of orphans in L.A. You'd be surprised."
Joked the actor, "I'm going to ask for some advice from Angelina [Jolie]."
— Dahvi Shira