SmartyPants Vitamins: A Healthier Option for Kids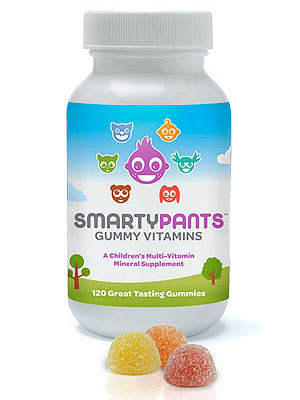 Courtesy SmartyPants Vitamins
Do you know what's in your child's daily vitamin?
You might be surprised to find that it's filled with high fructose corn sugar, artificial dyes, ingredients tainted with pesticides and lots of other not so good stuff.
Lucky for you (and your little one!), there's a healthier option — SmartyPants Gummy Vitamins.
To get kids the nutrients they need, the founders — Courtney Nichols, Gordon Gould, Breck Costin and Dr. Drew Francis — thought a lot about what ingredients to use.

Not only did they want their product to be as eco-friendly as possible, but they wanted to make sure it was packed with Omega 3 and Vitamin D because deficiencies are on the rise.
The result: A yummy all-in-one multivitamin made with organic cane sugar, natural flavors and colors and tuna-free fish oil that's low in mercury.
Added bonus: For every bottle sold, a nutrient grant is donated to a child in need through the company's partnership with Vitamin Angels. Plus, they're offering Moms & Babies readers 15 percent off. Just click on smartypantsvitamins.com/cbb for the exclusive deal.