Jenna Elfman Was Eager to Be 'Not Pregnant'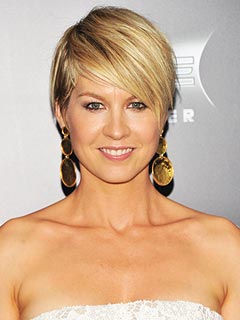 Stephen Lovekin/Getty
After her second pregnancy — and acting the part for her role on Accidentally on Purpose — Jenna Elfman was ready to be unexpectant for a while.
"It was nice to act not pregnant, frankly, because I had just done a whole season pregnant," the actress, 39, told PEOPLE at the Axe-sponsored Friends With Benefits premiere Monday. "I was like, 'I do not have a baby in my belly, let me go act. Please.'"
Elfman began filming Friends With Benefits shortly after giving birth to her second son, Easton Quinn Monroe, in March 2010.
"When the opportunity came up to play Justin Timberlake's sister, I thought that would be a lot of fun," she said. "I had also just had my second kid, and I was really looking forward to getting out of the house."

Her elder son, Story Elias, who turns 4 this month, got to visit the set during filming, and Elfman describes him as an active, adventurous child.
"Story is up to many things and always is. He loves to paint; he's now learning how to roller-skate. He just started riding his bike with no training wheels. He's 3 and he rides a bike. And he continually blows my mind."
Easton, 16 months, is also growing up fast. "Easton is running around and saying 'I love you, Mama' all the time. It melts my heart, and it's the most amazing thing."
The actress and her husband, Bodhi Elfman, celebrated their 16th wedding anniversary in February. She admits that their relationship has been "the complete opposite" of the one portrayed in the film.
"I really don't see how it could work," muses Elfman. "I don't speak from the first-hand experience of trying to have a friends with benefits relationship, but I speak first-hand of having a 20-year relationship, and I know what it takes."
Elfman credits honesty as the foundation of her lasting marriage. "We don't keep secrets from each other and we talk about everything," she notes.
— Asher Fogle