Colin Hanks: Olivia Gives Life's Moments 'Deeper Meaning'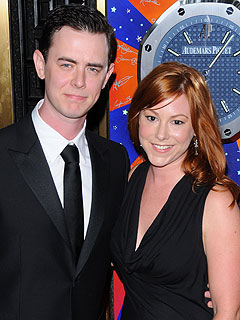 Brian Zak/Sipa
First-time fatherhood has left a lasting impression on Colin Hanks — and his career.
"I don't know if it's helping, but it's adding more work! It's adding another dimension," the actor, 33, tells Reuters of 5-month-old Olivia Jane, his daughter with wife Samantha Bryant.
"Since our daughter joined us the spectrum has widened. My job is to recreate moments between people and when you're able to look at moments differently, you get deeper meaning in things."
Fortunately, those moments with Olivia are getting sweeter as the days pass and baby girl's response to her doting dad's care continues to grow.

"A baby's existence for the first three months is a one-way street. One person is doing all the work and the other is crying, sleeping, and pooping," the Lucky star explains.
"So the first moment when you're actually able to do something and they acknowledge your presence, that's a big deal. A very big deal."
And while both Hanks and Bryant are certainly smitten with their new addition, the son of actor Tom Hanks reveals his dad is equally head over heels!
"They cannot wait to just dote on this kid with every single fiber of their being," he says. "My wife and I are more than happy to give them our baby and say, 'Here, watch her while we take a nap!'"
— Anya Leon