David Beckham Explains Meaning Behind Daughter's Name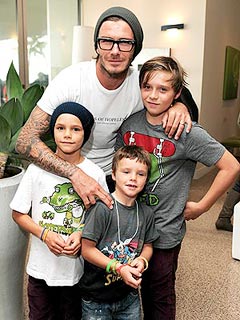 Jordan Strauss/Getty
It's all in a name for David and Victoria Beckham.
"Obviously a lot of thought goes into our children's names," the soccer star, 36, said in a video message posted on his Facebook page.
And it was no different when the couple welcomed their fourth child — and first daughter — on July 10, deciding on the moniker Harper Seven.
"Harper was a name that we've loved for a long time for a couple of reasons. One of the reasons is Harper is an old English name which we love. One of the other reasons is Victoria's favorite book is To Kill a Mockingbird and the author was Harper Lee," Beckham explains.

As for his daughter's unusual middle name, Beckham admits fans are quick to point out the connection to his career — "people assume that it's just because my shirt number … and part of it is" — but adds there's much more to the choice.
"[Seven] symbolizes spiritual perfection: seven wonders of the world, seven colors of the rainbow," he says. "In many cultures around the world it's regarded as a lucky number."
Although only 1-week-old, Harper is already making her presence known in the Beckham household — much to the proud papa's delight!
"To have a girl in the family is really incredible. We've got three beautiful, healthy boys already and we're so lucky to have that. Now, to have a beautiful little girl," he says.
"Having a daughter is a whole new thing. Having pink in the house, lilac in the house … It's a whole new experience, but it's an amazing experience to have that little bundle of joy in your hands making her little noises."
— Anya Leon