Melanie Brown: I'm Only Buying the Basics for Baby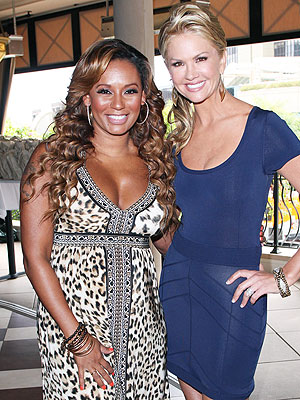 Jen Lowery Photography
The finish line is in sight for Melanie Brown, who is expecting a baby with husband Stephen Belafonte.
"A couple of weeks!" an excited Brown, 36, told PEOPLE during Nancy O'Dell's Creative Memories launch party, held Thursday at The Capital Grille in Los Angeles. "It would be nice to happen sooner rather than later."
Sailing through her third pregnancy — Brown is already mom to daughters Phoenix, 12, and Angel, 4 — the songstress has kept any nesting tendencies to a minimum, including name choices and shopping sprees.
"I'm really so behind with all that stuff. With my other two, I just waited until they were born and [then I] sense what works and what doesn't," she explains, adding that the couple have opted for a delivery surprise.

"It's nice to have something left to surprise yourself. You get everything neutral — not too much stuff until the baby arrives."
And although another baby will only add to Brown's already full plate, The X-Factor Australia judge isn't worried in the least.
"I got back [to Los Angeles] a month ago — my home visits [for the show] were over the weekend so they flew to me. My home visits were at home which was quite nice," she explains. "I love work. I love doing what I do and if I didn't, I wouldn't do it!"
— Anya Leon with reporting by Melody Chiu