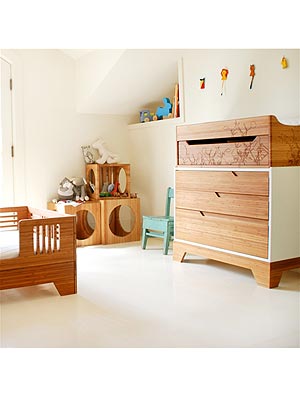 Courtesy Layla Grayce
When it comes to designing a baby nursery, the more personal touches, the better.
But where do you start?
For some great ideas, we've tapped décor gurus Tiffany Harris and Wendy Estes (below).
Whether your style is modern, frilly or bright, the co-owners of chic design boutique Layla Grayce will make sure your tot's room is one-of-a-kind.
Check out their top tips below:
Pick Crib Bedding First. It really influences everything from the paint, rug, art and even the furniture.

Paint! It's an inexpensive way to personalize your baby's room. For a truly bold look, add stripes, patterns or color blocking to the walls (or ceilings!) Just make sure to coordinate with the colors of your crib bedding.
Create a Reading Corner. As your baby grows, reading time will become a major part of your evening routine. A cozy chair that fits baby and parent is a must-have, along with an easy-to-access bookcase that holds all your child's favorite books. Want a more ethnic flair? Try a Moroccan pouf instead of a chair.
Add White Noise. Because it's not a design thing, most parents don't think of it. If you already have a ceiling fan then you're in luck. But if not, a white noise machine, such as the ones from sleepwellbaby.com, can be a life saver and may allow your baby to sleep longer without interruptions.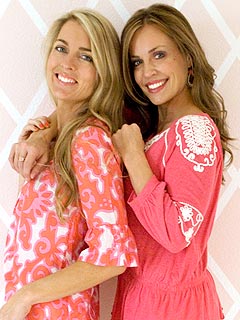 Courtesy Layla Grayce
Consider Blackout Drapes. Adding them helps ensure your baby can go down for a nap at any time of the day. We love the stylish options from Pottery Barn.
Frame Baby's First Year. One of the best baby gifts Wendy ever received was a small collection of frames, each marked by month from newborn on. They're a great way to accent your nursery walls in a meaningful way. We love mixing up these multi-shaped frames by OBrien and Schridde.
Play With Textures. Consider adding wood, iron, velvet, cotton, linen, diamond quilting, textured wallpaper, a shaggy rug or glass (out of reach such as light fixture of course!). It adds tactile interest and contrast between elements. For bedding, we suggest the Bella Notte diamond quilt crib set.
Research, research, research. Sites including ProjectNursery.com or NurseryNotations.com are great places to start. You can browse several nursery room designs that will help kick-start personal inspiration.
With Twins, Decorate Early! With multiples, anything can happen at ANY time so it's important to make sure you have everything ready when your little ones come home.
While shopping, also remember to ask for a twin discount to help in saving. Layla Grayce offers moms of multiples a 20 percent discount when purchasing two or more of the same furniture, bedding or décor item and  other retailers do too.
Make a Small Nursery Look Big. Lighter colors on walls and furniture will make the room appear larger. Also, keep colorful accents on rugs, throw pillows, wall décor or window coverings. This will keep the eye moving from the ground up, preventing a boxed-in feel. We just love the pom-pom window panels from Pine Cone Hill.
And don't forget closets! You can place dressers or other storage furniture there to maximize your main nursery room space.