Round-Up: Cool iPad Children's Books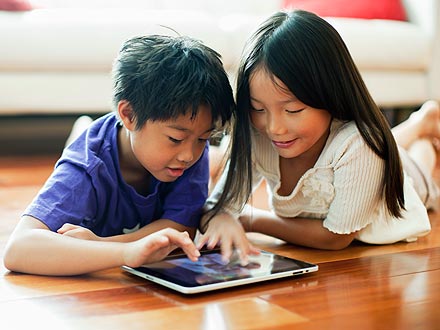 Inti St Clair/Getty
The last few years have brought about huge advances in reading technology. Luckily for our kids, it means loads of cool new ways — including the iPad 2 — to experience their favorite children's books. And to help you get a jump start on your collection, we've test-read a slew of storybooks featured in the iBooks library and these are some of our favorites:
Sandra Boynton's The Going to Bed Book is perhaps our favorite transformation of a book to e-book, as it really takes advantage of the iPad platform to create a wonderful family reading experience.Kids have an option of being read to, or of looking at the pages on their own and hearing words aloud as they tap on them.

We loved the illustration where you can turn on the tap, which steams up the page and then children can wipe the steam away. Talk about pretty cool! Boynton's silly animation and story really fit the e-book format. It will entertain a wide age range — from young children to early readers.
Fancy Nancy and the Sensational Babysitter by Jane O'Connor was another one of our favorites. Although it's a pretty basic e-book with nothing particularly, dare we say, fancy going on, it really helps independent readers gain more confidence as individual words are highlighted as they read along.
Another hit with our mini testers was Toy Story 3 because kids can select to see certain images in 3D with the proper glasses. There also fun puzzles, games, music and painting activities for more hours of entertainment. But the coolest feature is the option to record someone reading the story so that kids can hear a special person like grandma or grandpa reading to them, instead of the usual pre-recorded stranger.
The Princess Dress-Up: My Sticker Book was also a winner. Though there isn't much of a story, little ones will love adding their own picture so that they see their face in place of each princess's face. Plus, your tots can dress them up in loads of pretty outfits and accessories. Little princess fans of all ages are guaranteed to love this one.
If you want your kids to be visually delighted, our picks are Miss Spider's Tea Party and Animalia. Both feature fun, interactive illustrations, as well as mind-challenging games and puzzles that make them great for a long airplane or car trip.
Now, there's still something to be said for the magic of turning paper pages with little ones snuggled under their covers. And we don't in any way think books on the iPad are a replacement for good old fashioned story-telling.
But there are lots of amazing e-book experiences awaiting your child in the Apple App Store and iBooks library, so why not try some. They're more fun, interactive and sometimes educational than an hour in front of the TV.
— Stephanie Phoenix