Alessandra Ambrósio: Anja Wants a Pet Seal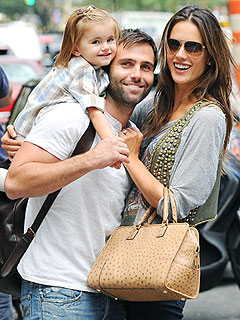 Humberto Carreno/Startraks
When it comes to her 2½-year-old daughter Anja Louise, Victoria's Secret model Alessandra Ambrósio isn't sparing any indulgences. But she drew the line at a pet seal.
During a recent trip to New York's Central Park Zoo, Anja spotted something she liked right away.
"The first animal we saw was the seal," Ambrósio, 30, told PEOPLE at the Victoria Secret Supermodel Cycle for Pelotonia at SoulCycle on Wednesday.
"She was like, 'Mommy, can you buy one for me? I want a little one for the house!'"

Ambrósio tried to let her down easy. "[I told her,] 'No, we can look at them. We can't have them at home."
It didn't all end in disappointment for Anja, however. Ambrósio and her fiancé, Jamie Mazur, gave their daughter a more manageable pet.
"Lola — she's a teacup Maltese," Ambrósio explains. "She's very tiny and adorable. My daughter loves her."
— Sydney Berger