Katie Holmes Willing to 'Take the Hit' for Suri's Sake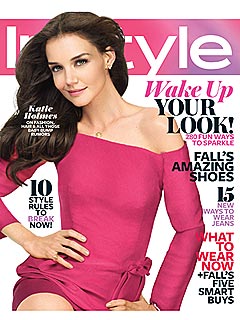 Courtesy InStyle
When it comes to raising 5-year-old daughter Suri, Katie Holmes is all about live and let learn.
"Recently, Suri and I were taking a walk and a fight got started because it was cold outside and she didn't want to wear her coat," Holmes, 32, tells InStyle's August issue.
"My philosophy is, 'Well, fine, because after a block of walking you're going to ask me for your coat.' So the pictures of her [without a coat in cold weather] are sort of embarrassing, but I said, 'Suri, I'll take the hit. Just put it on when you get cold.'"
However, despite her confidence in her parenting techniques, the actress is well aware of the constant criticism she faces in the spotlight.

"I have to be a good parent in my own heart first. I'm not going to choose making people happy over doing the right thing for my child," she explains.
"Whenever I think, 'Oh good, it's calmed down,' another false story comes out. I try not to go on the Internet that much because who needs to hear comments? But I do know what's being said: I am briefed."
Quick to point out she doesn't dress her daughter, Holmes reveals the true fashionista of the family is Suri herself. "Obviously, I buy her clothes, but she is the one who puts her outfits together," she shares. "In fact, she helps me. If she likes something of mine, I know it's good."
And just as Holmes won't cave to the pressures of public opinion surrounding Suri's wardrobe, she doesn't plan on succumbing to any stress of having another baby with husband Tom Cruise either.
"We already have a very big family: a full household with cousins who are over a lot, and she has her friends," she says. "My biggest thing is making sure she's fully taken care of and doing well."
— Anya Leon