Elisabeth Röhm's Blog: The Day the Duck Died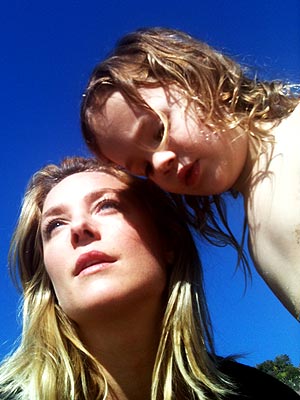 Courtesy Elisabeth Röhm
Elisabeth Röhm, best known for her role as Serena Southerlyn on Law & Order, has a busy year ahead of her.
The actress, 38, can be seen on the big screen in the upcoming films Chlorine, Transit, Abduction and Officer Down, and is found online on Facebook and @ElisabethRohm on Twitter.
In her latest blog, Röhm and fiancé Ron Anthony help 3-year-old daughter Easton August deal with the loss of her favorite stuffed animal — and the impending departure of her life-long nanny.
What are you kids attached to? Have they ever lost whatever it is? What were you attached to as a child? Elisabeth wants to know.

You know those kids that have material attachments? Of course, you know them. You might have been the very same way when you were a wee one. There's either a blankie or stuffed animal that's so treasured that its hair has literally worn down to bald patches. (Show me some of yours, PEOPLE.com readers!)
We know many children that have these creature comforts. Even adults have them. I certainly do. My sister had a bear named Pink Bear, that was very much beloved way past its prime. And I remember the stuffed Siamese cat named Ivory that went everywhere with me during a big chunk of my childhood. Of course that wonderful book The Velveteen Rabbit comes to mind when we think about the power of these attachments — and the power of what something can represent.
Just the other day, a friend of Easton's had left her binkie at our house, and it dawned on me that Easton does not have one of these attachments. At least I wasn't fully aware of a singular special friend — until the crisis occurred yesterday.
I saw Easton as more of a hoarder type. Her bed is covered with 40 stuffed animals that she loves equally and can't sleep without. I tell you — if one of them is out of place, we have to go on a mad search for them to steady the scales of peace and justice.
She's seemed to be quite the opposite of me in the sense that she loved all her stuffed things and would clutch them lovingly as she carried them to and fro all the places that she goes to in any given day. It's actually quite funny to watch her struggle to carry the menagerie of — not one stuffed friend — but three or four or more to the park, to school or simply around the house.
It's like they are a pack of friends which she seemingly can't do without. Every day would be made up of different players and there weren't really any regulars in her group. It seemed that it was the amount of things that she needed for comfort, rather than one special object or toy.
Not to mention we are specifically working on sharing and giving because she never wants to part with any toy, even if she hasn't played with it in quite some time or at all. We've been working on that one!
I welcome any opportunity to give some of her playthings away to her school or a friend or a donation drop-off because we've accumulated waaaay too much in these three short years. Her room houses mountains of toys from grandparents, Lolly and friends that I'm always trying to recycle. Laughingly, I refer to her as a hoarder because she loves and needs every item she has ever gotten — EVER — or so it seemed.
A fateful accident took place yesterday. Now, I will admit that I had noticed this very sweet little duck that was beginning to wear thin in spots, to the point where I could see its stitching. He had made it into the bath several times, which is odd because he's a stuffed duck! He had certainly been clutched tight in her little fingers on her way to places and he always had a home in her heap of bedfellows.
But it all became quite clear yesterday when Easton dropped him out the window of our moving vehicle that he was the one that she loved the very most in her circle of friends. I mean I tell you, I have never heard her cry with such heartbreak as she did when that duck flew from her grasp out into the traffic.
Luckily, we stopped at a red light pretty soon after she first screamed out to us about his departure. Of course, just like any of you would have done, I hopped right out of the car and looked as far as the eye could see — but there was nothing. The duck was long gone.
"I need the duck, I love the duck. We have to go get him," she cried. Easton was hyperventilating at this point. It was terrible and almost disturbing just how upset she really was.
I said to Ron, "Let's turn the car around and get the duck." He looked at me and quietly said, "It's been run over about 10,000 times by now." And he was right, because we were in a three-lane street with consistent flow. The truth is that even if we saw the duck, how could I safely exit the car in all of that traffic to rescue it? It truly seemed impossible. But not to Easton, who screamed and cried at us that we "didn't understand and that we didn't care."
She was truly heartsick as if it was an actual death. And I guess I learned that it was a death to her. I had no idea before that day that this duck was the very one that she loved the most. And this accident was more than she could bear at that moment in time. The tears streamed down her sweet little face, turning into red blotches that were almost like hives.
Ron went on to explain to her that the duck had left to go be with its mommy and daddy — to which Easton replied, "I hate its mommy and daddy … I hate you, Mom and Dad." And then she moaned, wailed and wept for another 30 minutes until we got home.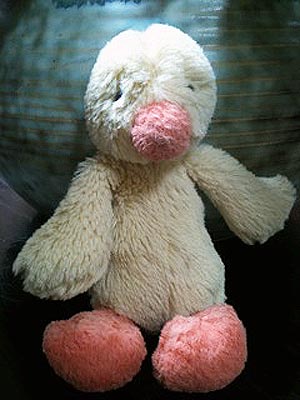 Courtesy Elisabeth Röhm
There we found two solutions — sort of. One we found is exhibit A — a similar little duck that she could love, although she made it perfectly clear that it would not replace her duck. "I know," I said. "It's so painful to say goodbye."
It made me realize that the death of the duck was a complicated situation. Not only did she love the duck in a special way, but it must have also triggered another painful goodbye we've been dealing with lately. One that has not elicited tears of this kind, which I found rather confusing.
You see, we've had a nanny named Lupe since Easton was born, whom we all love. And a few weeks ago, she told us she was moving to Maryland. But we have not had any outbursts or behaviors that have suggested how difficult this departure must be on Easton, especially.
Anyway, the subject of loss and goodbye has been a prominent one in our home lately. Although she hadn't cried about Lupe yet, I couldn't help but think that some of her tears towards the death of the duck were also for the loss of our dear friend whom we have grown so accustomed to.
And so the question of attachment, PEOPLE.com readers. As we get older, we find that we are trying to detach from our worldly possessions and trying to fit in more spring cleaning along the way to lighten our load. At least I am. But there are things, possessions, trinkets and keepsakes that mean the world to us.
We really couldn't live without what they represent. Maybe we are not that different from these little ones after all in our need for attachment. Maybe sometimes saying goodbye is the hardest thing of all.
The death of the duck was a serious matter that made me recognize how big the hearts of our little ones really are. I was moved by the depth of her reaction.
What are some of your kiddo's attachments? Or even some of yours? What were they when you were children? Share some of those first goodbyes here, ladies, I'd love to hear them.
— Elisabeth Röhm