Sarah Jessica Parker: My Age Works In My Favor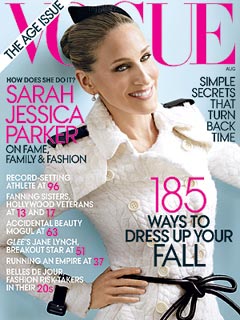 VOGUE/Mario Testino
For Sarah Jessica Parker, age is on her side when it comes to raising her three kids with husband Matthew Broderick.
"I guess I think there are things about it that I hope have made me a better mother," the actress, 46, tells Vogue's August issue. "I've had a lot of opportunities to do the things that I wanted to do, like sleep. I have slept till 11:00 for a lot of years."
But all those extra hours of sleep — and stored up energy! — have been put to good use with son James Wilkie, 8½, and now fraternal twin daughters Tabitha Hodge and Marion Loretta, 2.
"Honestly, the only thing I'm concerned about is the energy: I hope I can maintain the energy," she admits. "I think about all the years I've spent parenting James Wilkie and everything I put into it, and there are two of them."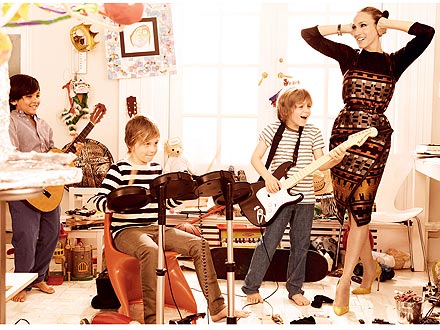 With James and school friends – VOGUE/Mario Testino
Determined to be involved in their children's lives, both Parker and Broderick schedule their work commitments around the kids, insisting family remains their top priority. "It's a pretty simple setup," the I Don't Know How She Does It star says of her two nanny system, one for the twins and one for her son.
"We don't have any live-in help. We're pretty hands-on parents. That's something that's important to both of us, and we don't shirk it, because what's the point in having a family if you're not going to really participate in it, you know?"
As a result, Parker often begins work following James' school drop off and ends her day shortly before the twins wake from their afternoon nap. "I feel like if I'm only missing up until 3:30, when they wake up, that's not so awful," she explains.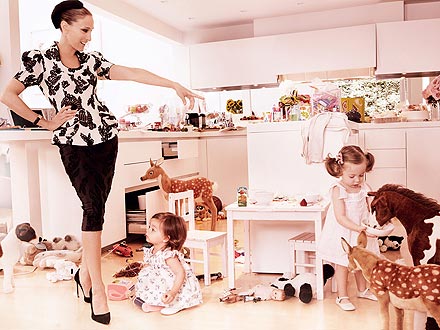 With Tabitha (l) and Loretta (r) – VOGUE/Mario Testino
And the family's routine seems to be working as both girls are thriving and showing off their unique personalities more than ever.
"Tabitha's very, very outgoing, but physically she's very shy. She shakes in elevators; its very sweet, like Bambi," Parker notes. "And then Loretta is pale like my husband, with piercing blue eyes. But she's physically bold."
However, while the girls don't quite resemble each other, Parker is quick to point out both of her daughters take after their father.
"I think it's funny how much [Tabitha] looks like my husband," she says. "Except then I look at Loretta and she has my husband's mouth and sort of sad eyes, you know the kind that go down? The Broderick eyes."
— Anya Leon