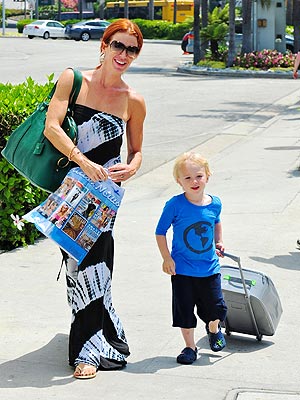 National Photo Group
Ready to fly!
Poppy Montgomery and son Jackson smile as they arrive — suitcase in tow! — at Los Angeles International Airport on Saturday.
"I thought I was going to get a girl that wanted manicures, pedicures and would, like, brush my hair," the Unforgettable star, 39, told PEOPLE recently.
"And I got a guy that is jumping off my head and leaping off of tall buildings."
Jackson, 3½, is Montgomery's only child with her boyfriend, actor Adam Kaufman
RELATED: Poppy Montgomery: Jackson Is 'Leaping Off of Tall Buildings'