Ian Ziering's Blog: Celebrating My First Father's Day
Thanks for welcoming our newest celebrity blogger — Ian Ziering! The Beverly Hills, 90210 alum recently welcomed his first child, daughter Mia Loren, with wife Erin.
Ziering, 47, will be appearing on Fran Drescher's new TV Land show, Happily Divorced, this Wednesday. He can also be found online @Ian_Ziering on Twitter.
In his latest blog, Ziering discusses his first Father's Day, and what happens when he forget to say goodbye to 11-week-old Mia before leaving on a business trip.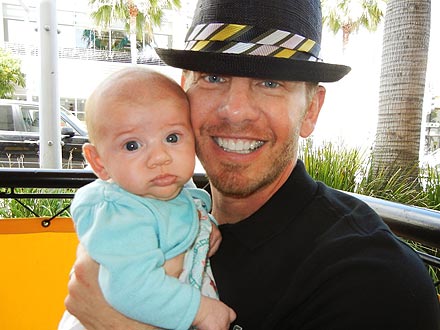 Courtesy Ian Ziering
So it's been a few weeks now and man, has my life changed. It's now a lot less fun, but a lot more joyous.
Erin tells me to quit griping, that in the last 20 years I've had enough fun to last a lifetime. Ah … no comment. I do, however, think it's a fair trade because a family is something I've always wanted.
It all happened so fast though! Erin and I met in September '09, got married in May '10, got pregnant in July '10 and had Mia this April!!! Mother's Day and Father's Day came up real quick too. Where we both have always thought of our parents on those days, we were now celebrating each other.
For Mother's Day I took Erin and Mia to lunch at a wonderful café, where we sat on the patio and enjoyed the day. It was Mia's first time out of the house so we had to keep it simple. I got Erin a really nice pair of earrings to celebrate her first Mother's Day. It's so fun to go overboard when a person doesn't expect anything. Erin's the best — I'm the luckiest.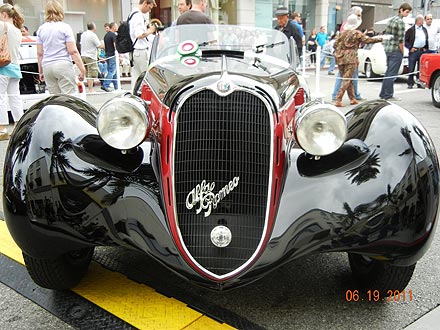 Courtesy Ian Ziering
On Father's Day, Erin took me and Mia out for lunch and to see a car show taking place on Rodeo Drive in Beverly Hills. I love cars. Cars, cars, cars! This particular car show featured old Italian sports cars — all late model Alfa Romeos and rare Ferraris. The crème de la crème was out for all to feast their eyes on.
As I walked amongst the twisted steel and sex appeal, I was fixated on Mia in my arms. This event was certainly a system overload for her, but there were moments where she'd look me square in the eye and hold my gaze. Every blink, every giggle, every squeak seemed familiar.
It's amazing to witness a baby experience something for the first time. An old Alfa tooted its horn and Mia reflexed out like Spider-Man. When she realized she was safe, she relaxed and giggled. It was the same giggle I giggle when I get the RPM's high enough to crackle the exhaust of my 1960 Corvette! I giggle like an idiot! Clearly she was a car girl. But what else was she?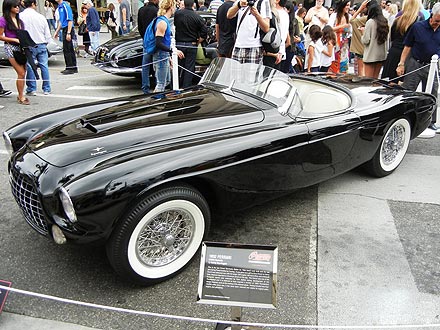 Courtesy Ian Ziering
After her bath that night I swaddled her and held her close once again. With just the night light on, and the ocean sounds filling the nursery, she got dozey in my rock-a-bye arms. I couldn't help but wonder what her strengths would be. What kind of talents will reveal themselves as she gets older?
Just then, as if responding to my thought, she hiccupped, burped and pooped all at once. I started to laugh really, really hard. Now that was some talent I didn't see coming!
I think babies bring luck with them. I am so busy! I will be guest-starring on Fran Drescher's new hit comedy, Happily Divorced, airing this Wednesday, July 13th. On July 16th, I start work on an Untitled American Girl film in Canada, and in August I'll be working on Adam Sandler's next cough-your-spleen-out funny movie, I Hate You Dad.
Though that sounds like a lot of work, nothing lights a fire under a man's keister like having a few extra mouths to feed. So to that end, I've become a celebrity endorser for the Nu Skin. It's the best stuff out there for maintaining youthful looks and I've been using it for years!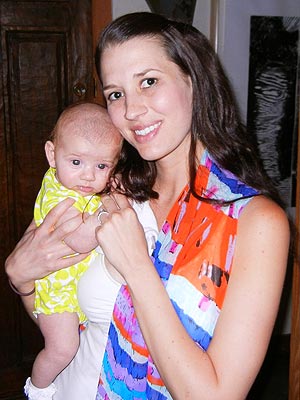 Courtesy Ian Ziering
Unfortunately, it involves a lot of travel. As I was heading to New York for a four-day presentation tour, I realized I didn't kiss Mia goodbye. I kissed Erin, hugged the dogs and was out the door — I didn't say goodbye to Mia!
For a brief moment I had completely forgotten that I had a child! I called Erin to tell her how bad I felt but she said since Mia was sleeping, it was probably for the best. My girl is the sweetest to try and make me feel better.
When I got home I kissed Mia's whole face, I held her in my arms and said, "Daddy is here and he sure did miss you!" Then I tried to teach her how to say 'Daddy.' Da Da, Daddy, Daddy Da Da!
Over the next few days I noticed Erin trying to teach Mia to say 'Daddy' as well — I asked her why she wasn't trying to teach her to say Mommy instead. Erin replied that when Mia gets fussy in the middle of the night, she'd rather she was screaming "Daddy!" Beauty and brains — my wife truly is the whole package — I just wish she'd use her powers for good instead of evil! Now I'm all about "Mamma, Ma Ma, say Mamma!"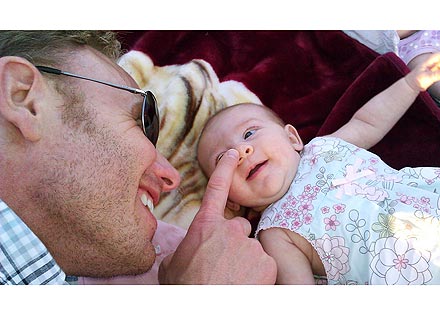 Courtesy Ian Ziering
— Ian Ziering