Review: Maclaren Denim Quest Umbrella Stroller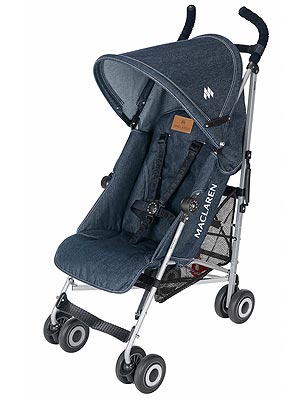 Courtesy Maclaren
Need to get around the city with ease?
We suggest you check out the new Maclaren Denim Quest ($250) — it's the ultimate umbrella stroller.
Not only is it easy-to-fold and fits in small cars, but it also sports a stylish denim cover.
Want more details? Check out our review below.
Things We Like:
It's hard not to comment on the denim first. This stroller is so stylish, you'll feel fancier just pushing it. The denim is accented with authentic jeans stitching, which just makes it that much cooler.

But looks aside, this is one great stroller. The fold is incredibly easy and the seat reclines — into four different positions — with a simple (albeit two-handed) maneuver.
New to the Quest line is an improved leg extender, which now sports fabric loops that make pulling it out much, much simpler.
We also love the big storage area under the stroller and the handy little pocket in the back of the canopy, which we used for our phone, wallet and keys holder while out and about with baby.
The brake is also easy to use. Both wheels lock at once with the press of a foot — and it unlocks just as easily.
Things We Didn't Like:
Although this is probably just the case for the denim edition, we were a little annoyed that we had to wash the seat fabric — per Maclaren's recommendation — before use to avoid blue dye transferring onto our tot's clothes.
Our only other complaint is with the buckle. Often, we find Maclaren buckles extremely tight and difficult to undo. It's great knowing that baby is safe, but there are times (like on cold days or days when you've only got one free hand) that it can be really tricky to get your child out of the stroller.
Moms & Babies Rating:
Overall, the Maclaren line of umbrella strollers, including this gorgeous Objects of Design Denim Quest, is one of our favorites. It's easy to use, lightweight for travel and comfortable for baby to ride in and mom to push.
If you want to see more of Maclaren's cool Objects of Design strollers, go to maclaren.com. They just announced their debut of their latest version — The Dylan's Candy Bar Volo ($150).
— Stephanie Phoenix