BumpWatch: Ali Landry Poses at the Pump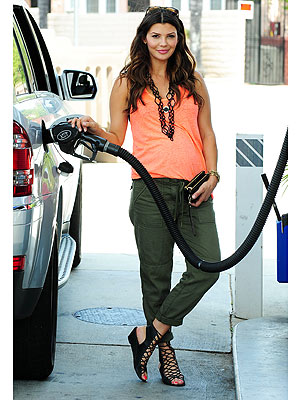 Michael Williams/Startraks
She makes filling up fashionable!
Ali Landry gets snapped while stopping for gas on Tuesday in Los Angeles.
Due with her second child this October — she and husband Alejandro Monteverde are already parents to daughter Estela Ines, 4 next week —  the actress and model says they know the sex of the baby, but aren't ready to share.
"We're not saying because I keep having dreams that it's the opposite of what the doctor has said," Landry, 37, explains.
"Sometimes they will confuse the umbilical cord for a piece of male anatomy, and it's not really that … I'll believe it when I see it."
RELATED: Ali Landry's Morning Sickness Solution? Grilled Cheese Sandwiches!