Elisabeth Röhm's Blog: Sick 'n Tired of Being Sick 'n Tired
Elisabeth Röhm, best known for her role as Serena Southerlyn on Law & Order, has a busy year ahead of her.
The actress, 38, can be seen on the big screen in the upcoming films Chlorine, Transit, Abduction and Officer Down, and is found online on Facebook and @ElisabethRohm on Twitter.
In her latest blog, Röhm, fiancé Ron Anthony and 3-year-old daughter Easton August are wrapping up work in the Big Apple and preparing to fly home to California when a bug hits them all. What gives?
Please share your best tips and tricks related to constant childhood illnesses!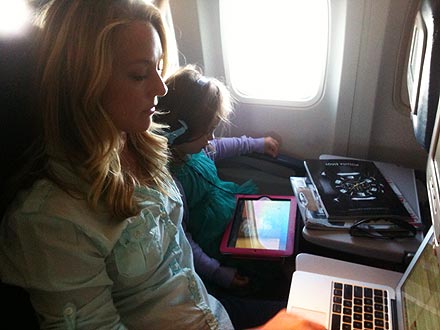 Leaving on a jet plane – Courtesy Elisabeth Röhm

"There is no place like home, there is no place like home, there is no place like home," Dorothy said in The Wizard of Oz as she clicked her sparkly red shoes together. I love that movie!
It's our last day on set in N.Y.C. and I'm feeling exactly the same way. Why, you might ask? Not because being on the road for two months isn't fun, or because I miss the awesome bed Ron got us for Christmas, or the sweet smell of the ocean wafting through our windows or the peace of our backyard in comparison to the great madness of the city. No, it isn't any of those things really.
It is because — bummer of all bummers — we got sick two days before leaving the Big Apple. Yuck! One of those terrible illnesses that you get from the little ones. What is it with camps, daycares and schools being petri-dishes for the most potent and bizarre viruses that I'd never seen the likes of before parenthood?
I know there are real scientific reasons for this, but it just seems like someone's cruel sense of humor — that on top of all we do as parents, we also have to endure a peculiar cold on a monthly basis. I'm seriously having sensations I've never had before … and I'm worried about our world!
The usual symptoms of the familiar flu don't resemble any of these bugs we've picked up from Easton and her friends along the way. Not to mention that they are potent buggers that manage to penetrate even the most vitamin-proficient, balanced diet, fitness freak of a person over and over again and knock-em to their knees, while the little one laughs it off and manages to recover, being over and done with it in 48 hours.
I know, I get it, moms — she's building her immune system . But it truly feels like this onslaught of bugs and critters that we pick up along the way from our babes are eroding our more sturdy systems. I guess if you want to take some people down … just bring them around sick little people. It'd be all over!
Ron and I had just commented on how nice it was to have a sick-free zone at home — and then we made the tragic mistake of putting Easton in summer camp. So in these last days of our New York trip, we all got knocked down, banged up and plum tuckered out by some strange little-person illness. Oh, the joy of a summer cold!
I'm sure now that Easton is recovered, we'll soon follow on the road to recovery. Not to worry though, Mom and Dad, because summer school starts next week. Just in time to get the next little bugger of a cold!
I know these children are absorbent sponges for all things they come into contact with. They are clean slates and that's one of the many reasons why we love them. And yes, it seems that even if we cleaned them with Brillo pads they — like shrimp at the bottom of the ocean — would pick up all the dirty debris out and about.
Still, I beg you moms — clean your kiddies, brush their teeth, wipe their drippy faces, clean their crusty noses and wash their paws, too. We have to be diligent. Hygiene is so important, as I'm sure you will agree. I realize it can't all be solved with this type of hyper-awareness, but I can't help but wonder if it wouldn't have a great impact if more parents exerted themselves in this department.
Oh, and please keep your kids at home if they are sick. That would be ever so helpful, right?! I can barely count the numerous times I've seen sick kids out and about, rubbing elbows, bumping shoulders and exchanging illnesses.
I know that we working parents struggle with the oh-so-inconvenient news that our children are flu-ish, but I promise the answer is bed and soup — not taking them to school, camp, daycare, etc. Not to mention all of this drama is very stressful as we juggle work and other parental responsibilities. Life is just not as fun with a drippy nose, ticklish tonsils and a heavy head, right moms?
The question, PEOPLE.com readers — is this just the way it is, the way it's always been, the way it will always be with our tikes? Or is this a hygiene issue? Is this part of the natural process of things or do dirty hands have everything to do with it?
I'm an avid washer/wiper/scrubber/cleaner/bather — not necessarily a germaphobe, but I do like to stay shiny and clean. I like seeing it in children too! I'm always impressed when a kid is tended to in that way. So I guess that makes me more aware of the chronic problem I see with our wee ones and their peers. Where do you stand, ladies? Is cleanliness next to Godliness? I'm inclined to think so!
Here's to our health, moms!!
— Elisabeth Röhm